By Jan Hein
Leo Sampson didn't set out to alter the world of wooden boat building, but during the past four years, each filled with random risk and challenge, he grew into a legend of the craft, thanks to skill and social media.

Sampson acquired an array of talent while chasing life in a series of adventures. In his early 20s he talked his way into a boatyard job in Bristol, England, working to learn and learning for the chance to get on the water. Pay was knowledge, which gave him the confidence to purchase Lorema, a 25-foot wooden Folkboat. That little beauty, once restored, carried him across the Atlantic in 2015, engineless, solo, and sans GPS.
After a landfall in Martinique, Leo and Lorema ultimately made their way to Antigua for the Classic Yacht Regatta. In a fleet that included J Boats and the 142-foot schooner Columbia, the Folkboat was dwarfed on the water, but a giant on the prizegiving stage. She earned first in class and her proud owner was named Best Young Skipper of the Year. Doors open for extraordinary people, so it's no surprise that Sampson's next opportunity was at the helm of Sincerity, a 90-foot wooden ketch built in the 1920s. He sailed the boat and crew from the West Indies to Europe, then flew back to the Caribbean where he signed on as bosun aboard the 65-ton, three-masted schooner Adix. Classic Boat magazine took note of his many accomplishments, awarding him the title of 2016 Yachtsman of the Year.
Life aboard Adix captured Sampson's attention until he heard about an old boat in serious disrepair. Tally Ho, a 48-foot, gaff-rigged cutter designed by Albert Strange, was in a boatyard on the Oregon coast, waiting for a savior. The designer's boats have a cult following, officially known as the Albert Strange Society. Members had been seriously searching for the perfect person to lay down US$1 for the chance to save their winner of the 1927 Fastnet Race. Nothing but the hull and deck, built in 1910, was included in the price. Damage from age, rot, and too many alterations destined the boat for a bonfire — until Leo Sampson journeyed to Oregon and met his future.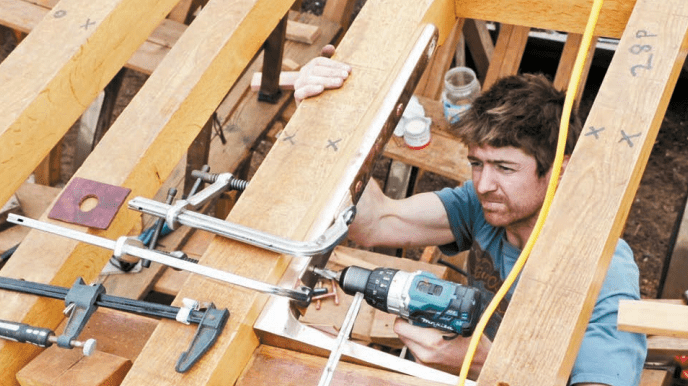 He handed over $1 and Albert Strange Society members pitched in to move Tally Ho to Washington State. It traveled by truck to a farm area in Sequim, Washington, taking up residency beside a house and workshop. The landowners, who have their own connections with the Caribbean, are extraordinary hosts. They offered Leo use of the shop and everything in it — a boatbuilder's dream of tools and space. He immediately got to work, cleaning, organizing, and figuring out how to record the story he was about to create.

The first Sampson Boat Company YouTube video, launched in June, 2017, is short and sweet. In it, Leo travels to Brookings, Oregon, with a family friend to survey the boat and seal the deal. That four-minute video became Episode One in a series that is now coveted and frequently binged. Filming was arty, the content captivating, and viewers couldn't wait to see Episode Two. One Tally Ho follower left this comment after Episode One: "WARNING!!! You are about to enter into something truly addictive! Great story, great cinematography, great music, great people and a really cool macaw. I bumped into this this morning, and all plans for the foreseeable future have been abandoned. Approach with care…"

Another viewer wrote, "Stumbled onto a Sampson clip by accident and it's done me in. I've been binge-watching episode after episode for three days! My family hasn't seen me all weekend. They think I've left town. I'm hooked!" The videos have grown in length, each multiplying the Tally Ho fanbase. Leo ends each segment thanking a growing list of people who have donated money, materials, and time.
As Episode 100 nears completion, there are over 300,000 subscribers to the Sampson Boat Company YouTube channel, www.youtube.com/channel/UCg-_
lYeV8hBnDSay7nmphUA. Views often top half a million, and fans wait anxiously for each to premiere. To add to the frenzy, the Sampson Boatbuilding Facebook page, with over 16,000 followers, launches impromptu debates on every intricate move Leo makes. Topics range from wood choice, fastening options, technique choice, and textbook theories on the art and religion of boatbuilding. The shop's macaw is a hot topic, as is the revolving cast of crewmembers that join the rebuild team.

The loudest audience frenzy happened this year (Episode 92) when the local county government threatened to shut the project down. Leo's announcement of the news on Facebook and YouTube unleashed the flying monkeys, resulting in a show of arms fit for a small country. Supporters rallied with legal advice, donations, letters to the county, all in an effort to leave Tally Ho in place until the bitter end. Ultimately, Leo took command, and the high road, and struck a deal with the county. The boat would remain in place until properly prepped for a truck ride to nearby Port Townsend to be finished and launched.

Every captivating episode has a plot, a problem to solve, lessons and guidance on the art of woodworking and boat construction. In early 2018 (Episode 19) Leo journeyed to the Deep South to select white oak and lend a hand milling it. Later, he encountered issues with the outdoor shed, requiring intervention from engineers and designers. In Episode 41, we celebrate a new US visa, relieving Leo of the need to frequently visit the UK or Canada. New tools come on the set; large objects, like the purpleheart keel, are cut and miraculously moved. The videos, which are filmed, produced and launched on a bi-monthly schedule, feature a running cast of characters. They range from solo volunteers to small crews who show up for mentoring and the chance to learn from the master Leo has become. A few, like Pete the Enigma, have earned rockstar status, while others star in small but important cameo roles.

The Tally Ho team is in high gear, prepping the boat for the big parade to Port Townsend. Once installed there, the interior will be built, engine installed, systems, gear, and sails completed. And then what?

Chances are, it will be one of the most famous boats on the planet, worth a fortune in time, materials, and inspiration. Leo's skill and talent will be highly sought by boatyards and schools around the world. His dream, however, is to sail it back to the UK to repeat history with a Fastnet win. Will he return to the Caribbean, too? Stay tuned…