5,000 Nautical Miles Against the Trades with an Electric Motor
Story and Photos by Keith Dickey and Rebecca Frontz
This is part five in a five part series.
Part One: Part One: 5,000 Miles Against the Trades with an Electric Motor
Part Two: Installation Overview
Part Three: The Charging/Discharging System
Part Four: 48V Discharging/ Electric Motor Usage
Our previous four articles in this series have highlighted the electric motor installation process, Vagari's charging and discharging systems, and the electric motor's characteristics. In this our final article, we will discuss the costs associated with converting to electric. We will break out the cost by system and note our thoughts on the trade-offs between cost, quality, and support when, not if, you have issues with your system. We believe it is absolutely critical to choose suppliers and original equipment manufacturers (OEMs) that will be willing to support you. As we step through each system, we will give several anecdotes highlighting this fact.
Of note, all costs below are related to the product and supplies. They do not take into account any labor as all installs and troubleshooting was done by ourselves. All prices shown are in USD. Also, we do not have any paid (or product) sponsorships. What follows are simply our thoughts based on our experience.
Electric Motor: $5500
Our Electric Yacht 20kW QT was bought secondhand for $4500 (including shipping). Electric Yacht currently sells these units for $9,500. The installation costs (including removal of the old engine) were approximately $1000.
We are exceptionally happy with Electric Yacht. This is especially true since we did not buy the unit directly from them, but rather from a fellow cruiser. It's clear they believe in their product and will support it throughout its lifetime. We've had a few instances of needing their help and they have never failed to come through with assistance.
Initially, while installing the solar panels, we somehow managed to fry one of the electric motor controllers. Without hesitation, Electric Yacht considered the unit under warranty since it was new to us within the last year and replaced the controller at no cost. It was even express shipped.
When we were sailing into the west coast of Jamaica, we managed to foul the prop with a rogue offshore fishing deep-line. This put sufficient stress on the unit to shear the bolts in our custom-made coupler. Unfortunately, it also damaged the coupler itself enough that it continued to be a problem throughout all of Jamaica. As we hopped along the north coast of the country, we would often find ourselves having to sail onto anchor as the new bolts would bend or shear, no longer adequately holding the shafts together and rendering the use of the motor impossible. After numerous attempts to fix the issue in hopes we could still make the coupler work, it failed for the final time on the first night of our passage from Port Antonio, Jamaica to Bahia de las Aguilas, Dominican Republic. After the sun was set and Rebecca's shift ended, she laid her head on the pillow and within a few minutes heard a loud thud. Keith immediately opened the hatch to the engine compartment and saw the bolts completely gone and the coupler unattached laying in three pieces. The boat shaft, being unattached, shifted approximately four inches aft, leaving only two inches of accessible shaft before it would be within the packing nut of a traditional stuffing box.
By pointing into the wind and slowing our speed, we managed to pull the shaft back into the boat. The goal then became to keep the boat shaft from spinning out of the back of the boat for the remainder of the passage. We removed the aft motor to have better access to the shaft and, over the next four days, used a series of hoseclamps, stainless steel seizing wire, and a pipe wrench to hold the shaft in the boat.
After we dropped anchor in the very remote southwest corner of the Dominican Republic, Electric Yacht worked with us to assess which parts we would need, including a longer motor shaft and a more traditional coupling system. They shipped it all in a timely fashion to have it freight forwarded to the nearest town an hour away. They then kept in communication to help us disassemble and reassemble the motor pulleys to install the new longer shaft successfully.
They most recently went the extra mile by responding over the weekend and express shipping a new throttle. We had messaged while out sailing on a Saturday. When attempting to use the motor, the amp draw would jump around. We would go to increase the draw and it would intermittently decrease instead. They immediately helped us troubleshoot while still out on the water and determined it was the potentiometer on the throttle.
Batteries: $8000
As mentioned in a previous article, we imported four 48v 100Ah LiFePO4 batteries, each with a self-contained BMS, directly from LiYuan Batteries, a manufacturer in China. The cost of the batteries themselves was about $6000 in total and approximately another $2000 total to ship and import.
While the cost of these batteries has made them worthwhile, this is an example of the interplay between cost, quality, and support. The cost was about a third of what we would have paid for similar batteries in the USA at the time. However, the quality has been below average. Specifically, the batteries are 15 cell instead of the traditional 16 cell; one of the cells has already gone bad rendering the battery unusable as 48v, and the decay of the cells is faster than expected. The support from LiYuan has been less than helpful. As such, we have been forced to troubleshoot issues without support, resulting in poor outcomes on more than a few occasions.
To be fair to the OEM, these issues arose during the COVID pandemic, which greatly limited our abilities to communicate and problem solve together. The manufacturer offered a two year warranty, but logistically working directly with an overseas manufacturing company during the pandemic to discuss next steps or a warranty proved to be impossible. We wonder if the pandemic affected the quality of the product as well as the manufacturer's ability to provide support. Either way, a learning point for us is, while we saved on cost, we forfeited on quality and support. We've made the best out of the situation and successfully converted the bad 48v 100Ah battery into a 12v 300Ah battery by rewiring the good cells and using a new 12v BMS.
Solar: $1900
We initially purchased eight flexible 110-watt panels direct from a supplier in China. The cost of panels and shipping was approximately $800. We were fortunate to also be gifted two 100-watt rigid panels from a friend before leaving for cruising. We then added two 400-watt rigid panels in Guatemala for $500. Installation materials (wires, stainless frame, misc.) for all of the panels amounted to $200. Importantly, our install material price was rather inexpensive because we were able to use the boat's existing archway and bimini frame as supports for the solar array. Additional costs included two Victron MPPTs 20/100 for $300 and a Genasun 12v to 48v boost MPPT for $100.
One of the great things about solar is that there are no moving parts and they nearly always function as expected. The flexible panels are about four years old and are showing their age as expected— flexible panels have a polymer surface, which becomes worn and scratched over time. But other than that we have no complaints. The ones we installed in Guatemala have half-cell technology, which helps with performance, and we have been pleased with this addition.
Wind Generator: $2300
Our Primus Silent X 48v 400-watt wind generator with an internal regulator cost us $2200. Given that our boat had an existing archway for a wind generator, it was mostly a plug-and-play installation that only cost us about $100 in additional materials.
We spent nearly twice the amount we normally would have due to an unfortunate situation of losing our wind generator in the mail. A component on the circuit board broke during a gusty day early on while we were still refitting our boat. The OEM asked us to mail back the wind generator for them to assess and repair the damage. Sadly, the wind generator never made it to them as it was lost in transit along the way. A lesson was learned to double-check for adequate insurance on a package when shipping expensive pieces of equipment. We were left with having to purchase a second unit from the OEM, though they were kind enough to include the upgraded silent blades at no cost. We have had one further issue since this time and Primus has had great customer support.
Generator: $9000
After ample research, we bought a NextGen 5.5kW with full sound enclosure for $8000 and the OEM recommended offshore spares kit for another $800. We did get the "Boat Show" price, which was a promotion they were running at the time of purchase. As Vagari had had a generator previously, some materials were able to be reused during the installation, saving us money. The total cost for the install materials was about $200.
Other than a single blown capacitor, which was our fault, we have had no issues with the generator. It is efficient at about 1/3 gallon per hour fuel usage and very quiet. We particularly sourced a two-cylinder unit as it is physically smaller than a three-cylinder, but runs at a lower RPM than a one-cylinder, which should extend its life. Customer service, even though we have needed very little support, has been excellent. To date, this system has the correct balance of quality, cost, and support.
Battery Chargers: $1250
Our chargers consist of a 60 amp custom made 48v charger for which we paid $500, a 20 amp Genius 48v charger for $550, and a 48v to 12v Victron MPPT being used as a DC-to-DC charger for $200.
The Victron MPPT is being used outside of the OEMs use parameters, but is working nonetheless. The Genius charger, unfortunately, has not lived up to expectations. It was very pricey and produces about 75% of its stated output. The custom charger was made by Guangzhou Donglong Electric, an OEM found on Alibaba.com. The quality has been superb with the charger meeting its stated specifications. The support from the OEM was helpful as well when we reached out with questions during the initial install and use. The price was exceptional. This is an example that runs contrary to our experience with the batteries in terms of directly importing products.
Inverters/Converters: $500
We have a 3000-watt / 6000-watt Reliable Energy 48v to 110v inverter that we bought for $300 and we have a 48v to 12v 150amp Evergreen converter that costs $200.
The converter is a back-up and has not been used, so we do not have much to say about it, but the inverter has been a very pleasant surprise. We purchased the inverter about 6 months into the pandemic and the exceptional price was reflective of an inventory glut. The support has been impressive as well. The initial remote control failed after about 1 month and they sent us a new remote for no charge right away. The quality has been great since then as it has not given us any issues while being used daily to power our galley appliances, hot water heater, and occasionally the air conditioner.
In total, our electric conversion cost us approximately $28,450. We worked to decrease our costs by thinking outside the box when obtaining parts and supplies, such as a secondhand electric motor, and by doing all of our own installs. We also saved massively in materials due to the existing archway, bimini frame, and davits. As we were refitting a boat that did not have any working ancillary systems, we needed to purchase all aspects of our conversion, such as a generator, which increased our overall costs. We think you could expect to spend approximately $40,000 on parts and supplies, depending on which pieces you need to complete the install. You could likely double that cost if you are paying for labor as well.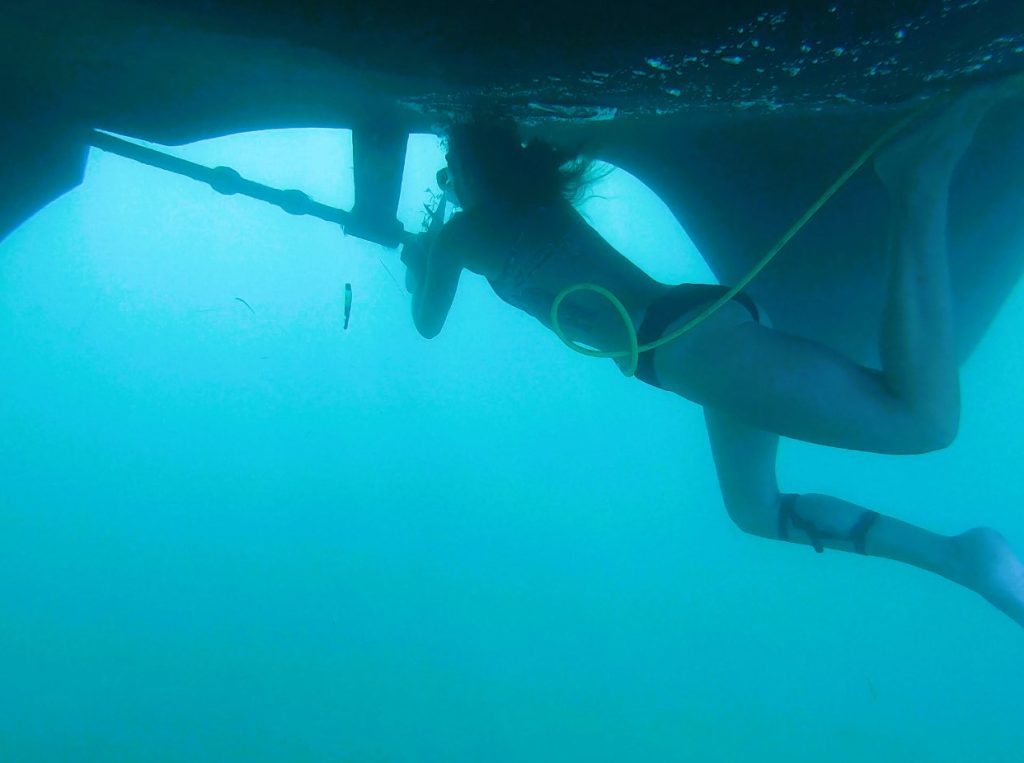 This article concludes our series on converting to an electric motor and our experience with it over the last 5,000 nautical miles against the trades from Texas to the Eastern Caribbean. Thank you for reading along and we hope you found some value in our story. We look forward to sharing our future electric motor adventures. As always, if you have any questions, please feel free to reach out to us at [email protected].
This is part five in a five-part series.
Part One: Part One: 5,000 Miles Against the Trades with an Electric Motor
Part Two: Installation Overview
Part Three: The Charging/Discharging System
Part Four: 48V Discharging/ Electric Motor Usage