There is no more famous Caribbean landmark than the twin Pitons in Soufrière, St. Lucia. When my friend Anne told me she was taking a trip down to Gros Piton with her daughter Annabel and Anabel's partner Jake, to climb to the summit, my business partner Lexi and I signed on. It was a hike I had never done. About 40 years ago I climbed Petit Piton from close to the base of the mountain, so why not give it
a go?
Well, 40 years older and a decade past the biblical three score and ten should have been a consideration, but no one forces you to go all the way. In my memory, the hike up Petit Piton had been intense. It was extremely steep and we just followed the guide, pulling ourselves up with the help of the trees. Sometimes you would look back almost straight down to the sea below. It was dramatic and only not scary because of the vegetation. I do remember being disappointed by the view at the top because it was grassy with trees all around, so while you could see plenty it was more of a distant view than a dramatic straight down one.
The taxi took us to Fond Gens Libre, "the valley of us its history: how escaped slaves had lived here under the mountain, scratching a living from the land and sea (there is a trail down to the beach). If a search party came for them they would disappear up the mountain on roughly the same trail we were to follow.
On my return, I explored the village and was surprised to find the big old Union Vale sugar mill with its water wheel and estate buildings lying in picturesque ruins at one edge of the village. A village of escaped slaves living so close to a plantation? I have not been able to find the history of this plantation, but there is presumably an explanation. Maybe long ago, though they were clearly close in proximity, there was a geographical barrier between them that has since been removed. Or perhaps this plantation started after slavery ended, though that seems unlikely. Maybe one day I will find out.
Our guides met us and took us to the visitor center, where a topographic plaster model showed you the stages of the climb, and for EC$20 you could rent a walking stick if you failed to bring one. As it was, some of those who got to the top found them more hindrance than help, as after the halfway mark you need to be using ropes and handrails to haul yourself up the rocks.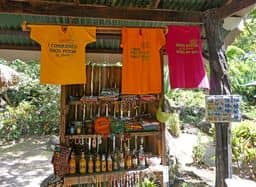 The trail is well laid with lots of support ropes and wooden handrails. Gros Piton is about 2,200 feet high, but your taxi brings you up the first 600 feet or so to Fond Gens Libre, so that only leaves you a couple of thousand. Your first clue that this is more of an endurance test than a nature walk comes a short way up the trail where a bar, set in some lovely gardens, has a boutique selling T-shirts with three sayings; I conquered Gros Piton, I made it halfway up Gros Piton, and Gros Piton kicked my butt.
The going is not smooth. For the most part you are climbing up rocks, which are stable but demand attention and are not as easy to navigate as walking on a path. Quite a way after the bar we came to the quarter way point with a view over the village of Choiseul and the surrounding farmland. Time for a sit down for a break.
By this time, we were beginning to get a feeling for the guides. They were perfectly pleasant and would answer questions, but to most in our group it seemed their self-defined role was to get you up as far as you were going, be around to make sure you were okay, and otherwise to be disengaged. Most had mobile phones and stayed pretty much glued to them. They seem uninterested in the climb and surroundings.
The halfway mark offered a great view of Petit Piton and benches to relax. Anne decided that was far enough. The three younger members of our group shot on up, and after a rest, I decided to give it a go. The vegetation, which had been mainly dry forest, turned to rainforest and the trail became steep, but the handrails and ropes were good and well maintained. I enjoyed the change in scenery and being on my own for a bit, but the thought of doing what we had already done at this steeper angle was a little daunting, so I sat down to think about it. At this point I was attacked by many large mosquitos, and I decided the rewards may not be worth the effort and made my way back down to the halfway point again. The slow hike back down was the best part for me: enjoying the beautiful surroundings and trail on the edge of a steep mountain, looking through trees to the distant sea. Talking by phone to our party who made it to the top, I was informed that the view at the top was not all that great, and the Pitons view we saw was the best of the hike.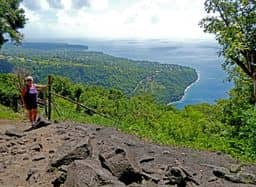 St. Lucia has many trails, and the guides I have had the pleasure to be with on the Tet Paul Trail (significantly shorter with better views), and on the rainforest skyway and walk, were fully engaged, loved the area and wanted to make sure you appreciated it as much as they did. This was sadly lacking on the Gros Piton Trail. It is not that those guides are unfriendly, but they have no training as to what makes a good guide, which is a shame, because they could enjoy their work much more and gain much bigger tips.
The trail is very well maintained and if you are in it for the challenge of the hike and bragging rights, it is perfect the way it is. Before you brag too much, know that there are those who have done the double Piton challenge; climb both Pitons in one day.