By Darelle Snyman
To me, snorkeling and diving remain two of the most rewarding ways to immerse myself in the beauty of Mother Nature. The clear waters of the Caribbean provide a host of opportunities to indulge in these activities, especially now that we have put another hurricane season behind us.
In the underwater world it is usually the colorful fish that draw our attention first. The following five fish species might not be large in stature but are definitely cute and colorful.
The Fairy Basslet
Anyone that has ever dived or snorkeled on a Caribbean reef will be familiar with our first, very vibrant little character, the Fairy Basslet (Gramma loreto). This striking two-toned fish, clad in bright purple and yellow, is impossible to miss. The black stripe that streaks through its eyes gives it a somewhat grumpy look.
Fairy Basslets are easily identified by their distinctive coloring. It is probably their bright purple front half that gave them their alternate name of Royal Gramma, as purple is considered to be a royal color. Their vivid hues make them irresistible from a photographic point of view. Their rapid movements and quick retreat actions, however, reduce them to purple flashes, challenging to photograph. I have thrown in the towel many times in trying to get a decent photo of these frustratingly fast little fish. It has required a lot of patience and loads of shots to end up with a few non-blurry photos that actually include the whole fish.
These reef-dwelling fish have a unique penchant for swimming upside down under ledges and along cave ceilings, a fun behavior that they seem very comfortable with. They are territorial and tend to spend most of their time hiding in crevices, darting in and out to feed on plankton suspended in the water. They are shoaling fish and establish small colonies with a male dominating a harem of females. Dominance is based on size; thus at each coral head it will be the largest individual that dominates.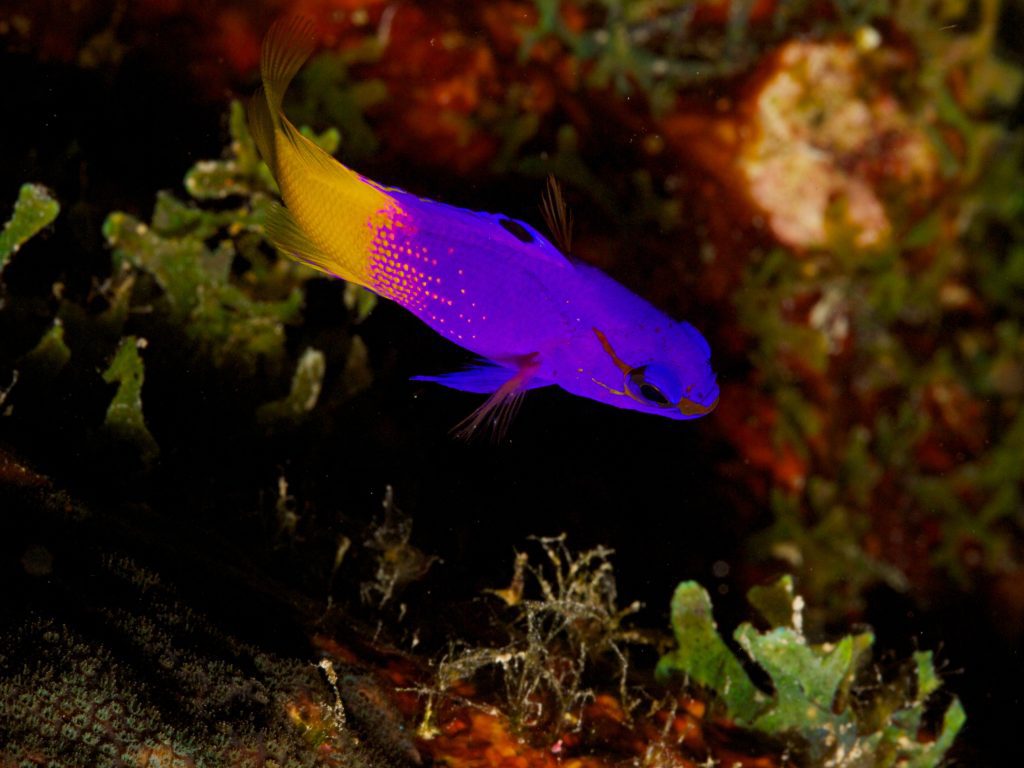 All Fairy Basslets start out life as female but when they gather in small schools the largest female will change gender and become male. Male individuals are larger and more vibrant in color than the females, a description not necessarily helpful for distinguishing between the two sexes when encountering them underwater as purple flashes of color. When it comes to reproduction the male takes the leading role by creating nests within small holes and crevices to win a female's affection. Once the female deposits the eggs the male remains to guard them and clean the nest.
Due to their fast movements and secretive nature, Fairy Basslets have few enemies but are known to be preyed upon by the invasive lionfish.
The Spanish Hogfish
Another two-toned beauty commonly encountered on coral reef all across the Caribbean, and definitely easier to photograph, is the Spanish Hogfish (Bodianus rufus). The coloration of its elongated body is influenced by water depth. In the shallows it features a blue upper body and a golden-yellow lower body and tail. In deeper water the blue gives way to a red upper body and head.
During the day you will find adult Spanish Hogfish rooting around for delicacies such as brittle stars, crustaceans, sea urchins and mollusks. This process is enabled by their piggish snout, from which they get their common name. Their powerful jaws and anterior canine teeth help them break through the crusty protections of their prey.
The juveniles, on the other hand, maintain cleaning stations, getting their sustenance from the parasites and debris they clean off the gills and fins of other fish. They advertise their services by swimming in a circular pattern around coral heads. By the time they reach about three inches (eight centimetres) in size they switch to the adult diet of crusty invertebrates.
The night divers among us should keep a look out for them in sand beds, where they tend to bury themselves at night.
Spanish Hogfish, like their other wrasse family members, are not the most graceful swimmers as they rely on their pectoral fins only for movement, which is given the fancy name of labriform locomotion. Because of their slow, ungainly style of swimming they rarely venture far from the protective shelter the reef system provides. Spanish Hogfish, like the Fairy Basslets, are protogynous hermaphrodites, meaning they also begin life as female and then change to male, a change that takes seven to ten days to complete.
They hang out in permanent polygamous groups where a dominant male keeps company with (and pursues) multiple females. The largest female in the harem will undergo a sex change to take over the role of harem master in event of the dominant male's death.
The Puddingwife Wrasse
The large wrasse or Labridae family truly has its share of diverse and conspicuously colored fish, many showing great variety within individual species, a situation that greatly complicates species identification. One such species, that well illustrates the dramatic color changes wrasses can undergo during their different growth phases, is the uniquely named Puddingwife Wrasse (Halichoeres radiatus). The origin of the name is unclear and is thought to be corrupted from its Spanish name in Cuba, pudiano verde. (Puddingwife is actually an obsolete Middle English word meaning woman who sells sausage, which clearly has nothing to do fishes.)
This beautiful marine creature starts out life as an orange- to gold-colored juvenile whose body is marked with a distinctive white line that stretches from the eyes to the tail, and an ocellated blue spot on the dorsal fin. It is, however, the next (or initial) phase, that truly showcases its beauty. In this phase, as can be observed in the photograph, the yellow to greenish body is covered with an intricate pattern of iridescent blue lines and spots. How stunning is that?
During the adult (or terminal) phase there is not much left of this intricate blue pattern; the fins, however, remain edged in brilliant blue and the head bears greenish-blue scrawls. There is often a white, mid-body bar present on the adult's blue-green body and the tail fin has a yellowish margin.
Like all wrasses they are constantly on the move during the day, foraging for crusty eats like mollusks, crustaceans and sea urchins.
The Green Razorfish
Another truly attractive, but smaller member of the wrasse family is the Green Razorfish (Xyrichtys splendens). The male, as seen in the photo, is a true beauty with its body cloaked in shades of green to blue-green and a face lined with fine orange bars. It has one or two dark spots mid-body, a feature absent in the females.
During the initial phase Green Razorfish are pinkish-grey in color and may display irregular white vertical bands. Being protogynous hermaphrodites like their other wrasse family members, all initial phase individuals are female. All growth phases are characterized by a rounded tail fin and eyes with a prominent red iris.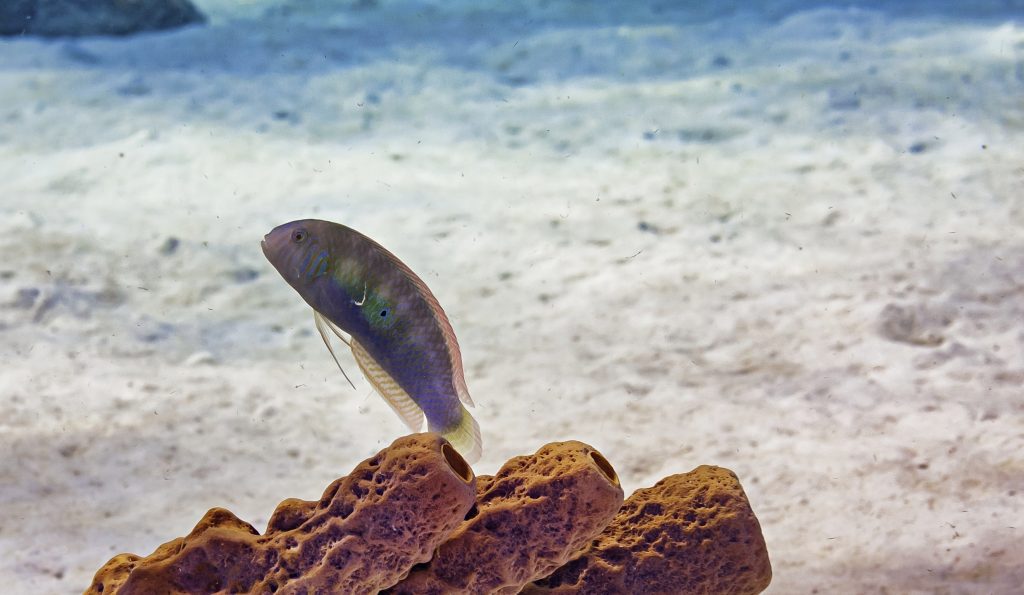 The mottled-colored juveniles have an odd-shaped fin protruding from just behind their heads. These well camouflaged little fish are very active and not easily spotted as they dart around their favored habitat: sand areas and rubble bottoms near reefs. Again, it's another nightmare of a species to photograph.
Their common name, razorfish, relates to their having razor-thin bodies and sharp foreheads. These features help them to perform two behaviors that set them apart from their other wrasse family members: their sand-diving and "sand-swimming" ability. When they feel threatened they hide by diving straight down, headfirst into the sand, where they apparently can remain for half an hour. More interesting is their ability to "swim" under soft sand, emerging a metre (over three feet) or more away from the entry point. These evasive techniques are employed to avoid predators such as tunas, snappers, groupers and barracudas.
The Beaugregory
Last but not least is the juvenile Beaugregory (Stegastes leucostictus), a member of one of my most favorite fish families, the feisty damselfishes. This beautiful two-toned little fish is easily spotted, with its yellow body and vivid blue lines and spots that cover its upper head and back. A prominent black eye-spot ringed in blue can be seen on the dorsal fin.
This colorful juvenile transforms into a rather dusky-colored adult who tends to have a brownish color on top that fades into yellowish flanks. The blue dots fade to small spots visible on the scales and the large dorsal spot loses its blue ring and recedes to form a small black spot.
You will find these tiny fish hiding out in a variety of inshore habitats. They are territorial, like all damselfishes. They appear to be less aggressive than some of their relatives. It is always fun watching a riled-up damselfish when you have invaded its space, especially when you try to photograph it. They actually spend a great deal of their day chasing other fish species away.
During courtship a male encourages a female to enter its nesting site by making clicking sounds and performing a series of rapid dipping movements. Once enticed into the male's territory, the female deposits her eggs in empty shells or under rocks. A nest may contain up to 25,000 sticky eggs as multiple females may have used the same nest. The male takes responsibility for the eggs, protecting them from predators and fanning them to ensure they are well oxygenated. The eggs hatch within three to seven days.
All these colorful little fishes are fun to observe and I hope it did brighten your day to learn more about them.