The lost harbor of Christopher Columbus is a shelter that can still benefit cruisers today.
After losing his flagship Santa Maria on a reef and being forced to discipline an insubordinate captain, Christopher Columbus must have been feeling a little bit lucky for a change. His remaining ships, Niña and Pinta, were making way eastward along the north coast of Hispaniola, benefitting from a rare brisk westerly. The date was January 12th, 1493, and the first Columbus expedition was just a few days away from setting a course for Spain.

Lookouts high in the rigging spied an island between two headlands against a backdrop of a rising mountain range. The low island rose out of a massive coral reef indicated by breaking waves. What interested these experienced seamen was the dark blue basin between the island and the beach and the fact that a deep channel entered the basin from the east. Five fathoms, by God! Deep enough for Spain's biggest ships!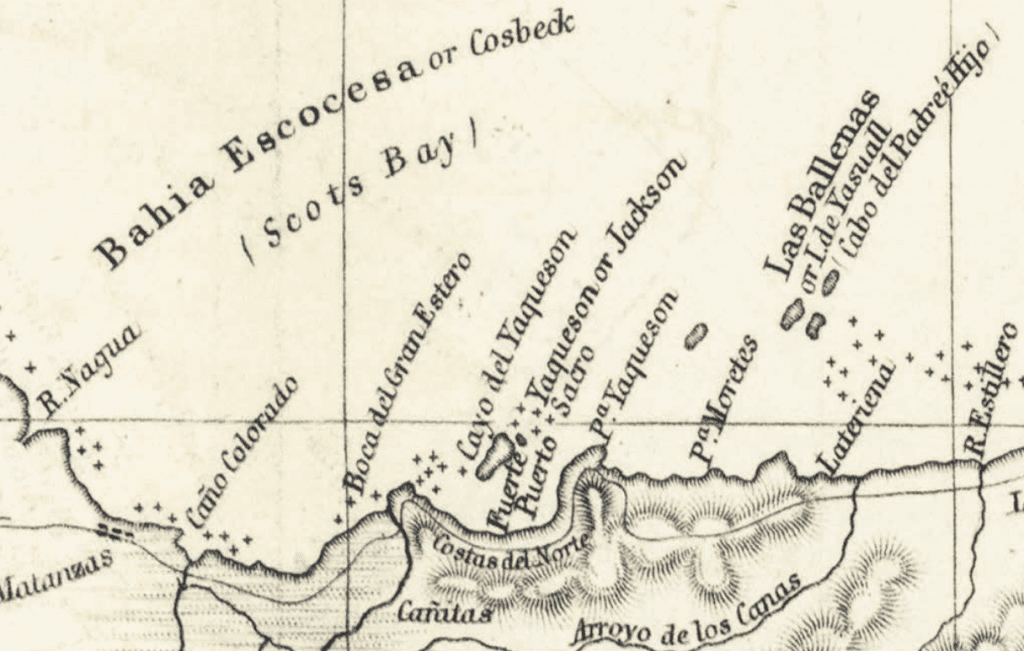 Columbus named it Porto Sacro, the Sacred Port. A couple of days earlier, the expedition had sallied eastward from the Bay of Grace, now usually referred to as Luperon Harbor, an outstanding hurricane hole. Since then, Columbus' crews had found nothing comparable as they plied the forbidding north coast of what is now the Dominican Republic. Sacro was no Luperon, but this new harbor to starboard offered good all-around protection against the winter waves that had rocked their vessels since arriving at the "Indies."

Bartolomé de las Casas, the Dominican friar who wrote an account of the voyage based on Columbus's diary, described Porto Sacro as "an immense and good port with a good entrance." A later map of Samaná would describe Columbus's harbor as a porto fuerte (a strong port), recognition of the protection it afforded against ocean swells. Thus, Columbus documented Porto Sacro but kept sailing, disinclined to squander his lucky westerly.
French pirates

Then came the French filibusteros, pirates who used the great bay on the south side of the Samaná peninsula as "a place of rendezvous" for most of the 17th century. They were surely aware of Puerto Sacro on the north side as well. For one thing, it had a spring-fed pool right on the beach from which to water their ships.
At some point then or thereafter, the little island was named Jackson Cay. The port became Port
Jackson, the headland on its east side, Point Jackson, and the high hills behind, Jackson Mountains. The eponymous, acquisitive Mr. Jackson is otherwise unmentioned in history.

By the 18th century Spanish authorities had regained control of Samaná; Jackson would be rendered on Spanish maps as Yaqueson. The Spanish broke a trail between the "mainland" and Samaná, which passed just behind Jackson Beach before turning south to cross the mountains to Samaná Bay.
Suitable only for pack animals, the trail was the sole overland access to the harbor. Ships called at Port Jackson to load lumber and coconuts from the thousands of palms along the shore and overlooking hills.

Haiti is a nation that peaked early. Haitian slave revolts culminated in the expulsion of their French overlords in 1801, thanks to the development of a capable native military. After independence, the Haitians marched their armies east, conquering Spanish Hispaniola, including resource-rich Samaná. Port Jackson worried them.

"Port Jackson is called the key to the north coast of Samaná, and a single man-of-war stationed here would command the only passage of communication by land to Samaná from the Cibao (mainland)," wrote Robert Schomburgk in the Journal of the Royal Geographical Society of London in 1858. He was referring to that rough trail, euphemistically called "The Royal Highway."

"When Santo Domingo was under Haitian government, General Borgela gave orders to form another road inland… as should a foreign war break out, an armed vessel in Port Jackson could prevent all communication between Samaná and the rest of the island. But the difficulties proved too great for the Haitians, and the works, though commenced, were never completed."
Forgotten, not gone

Over the centuries two adjacent mountain peaks were the distant indicators that Port Jackson lay ahead, but up close it was the 52-acre Jackson Cay that provided bearings sailors needed to gain entrance to the harbor.

On August 4th, 1946, an earthquake measuring 8.1 on the Richter Scale hit Samaná, spawning a 12- to 16-foot tsunami that inundated lowlands, a combination that killed 2,550 people. Mini-tsunamis were recorded as far away as Daytona Beach and Atlantic City. That day Jackson Cay ceased to be an island. A feature that had been a few feet above the water had sunk to become a shallow reef a few feet under. However, disaster did not rob Port Jackson of its mojo entirely.
A shallow 52-acre reef among deeper reefs by itself affords significant protection from ocean swell (think South Pacific atoll), but the problem that lingered down through the decades was that the charts continued to show Jackson Cay as if it hadn't sunk. How was anyone to access the shelter of Port Jackson if they could not find Jackson Cay?

When the fiberglass revolution of the 1960s brought about the cruising culture that endures today, stalwart sailors began transiting Dominican waters in passage from the Bahamas to Puerto Rico and the Lesser Antilles. Probably two to three hundred foreign recreational vessels pass Jackson annually, many of which are going to or (like Columbus) coming from Luperon. Those eastbound from Luperon are said to be plying the "thorny path to windward" because they are going against the wind, waves and current — along a coast thought to be devoid of an anchorage with allaround protection. Bruce Van Sant has transited the waters in question possibly more than anyone else alive. Van Sant is the author of A Gentleman's Guide to Passages South: The Thornless Path to Windward. His book contains a wealth of science-based tactics for passagemaking on the north coast of the Dominican Republic. Port Jackson is not mentioned in his book, but not for lack of trying.
No cayo, no porto
Van Sant recalls how during the 1980s he once searched for Port Jackson, which was depicted on government charts he carried. (In fact, Jackson Cay continues to be a charted feature to this day.) Yet no island presented itself, so Van Sant was unable to find a 200-acre anchorage, which, according to 1918 US government sailing directions, had "depths of 5½ to 7 fathoms and affords shelter to moderately
sized vessels."

Van Sant has swallowed the anchor and now lives at Puerto Plata, about 75 miles west of Jackson. When the former NASA engineer finally heard what had happened, he expressed regret. "I would have loved to snorkel through there," he said.

British ex-pat Barry Terry sailed across the Atlantic to the Caribbean in the 1990s and spent the next two decades cruising his 34-foot sloop up and down the Antilles and delivering other people's boats to and from the United States. On occasion he would use anchorages elsewhere along the north shore of Samanáthat were less well protected from northerly conditions.

"Cayo Jackson would have been a better anchorage if you were pushed for time, as most delivery skippers are," he said. "It would make great overnight stop if you needed a break after crossing the Mona Passage, and it would not take you very much out of your route."
The National Geospatial-Intelligence Agency (NGA) calls itself the US intelligence community's premier source cartography and interpretation of satellite imagery. Yet it publishes charts used by the US Navy that still depict Jackson Cay, 76 years after it sank, even though its non-existence can be confirmed by a cursory check on Google Earth. The British Admiralty also publishes a chart that shows an island where no
island exits, and the Admiralty's current piloting guide to the Caribbean Sea gives highly specific directions on how to enter Port Jackson using the non-existent island as a landmark.

Private cartography companies that make electronic charts for the recreational boating market rely on this government data for accuracy. Yet neither the NGA nor the Admiralty are willing to help explain how this mistake went uncorrected for decades, let alone how it happened in the first place.
Ken Cirillo was a vice-president for C-Map, one of the top marine chart-makers in the world. Cirillo says he has specifics about how NGA failed to note Jackson Cay's disappearance and why the Admiralty continues to describe Port Jackson as if it were still handling freight. In general, he says, charts are updated more frequently for high-traffic areas. Port Jackson's isolation and decades of disuse before the 1946 earthquake probably best explains the errors. Meanwhile, local boatmen, who do not use charts at all, happily ferry boatloads of tourists from the resort town of Las Terrenas to enjoy a "Robinson Crusoe experience" at Jackson Beach, complete with its natural freshwater swimming pool. European (and Turkish) Survivor TV spin-offs use the beach as a set because of its beauty, calm water and isolation. If only the NGA knew what they know.

Peter Swanson is a lifelong sailor and journalist, most recently having served as editor-in-chief of PassageMaker magazine. His birthdayis January 12th, the same date Columbus passed by Jackson Cay and wrote it into the history books.