by Chris Doyle
Back in the mid-1980s Ciarla Decker, an English-speaking Canadian, was traveling and adventuring. As part of this she went to the Mediterranean to learn to sail. In Monaco, amid the glitz of the Riviera, she met avid sailor Jacques Bardyn, a professional skipper who was at the time running Stormy, a beautiful cold-molded plywood racing boat. They delivered Stormy across the Atlantic together and arrived in Martinique.

Abri-Cotier Days

Back in those days there were not as many yachts in the Caribbean as there are now, but there were many more skippered charter boats, often owner-run, and Fort-de-France was the main place to do turnarounds. It was usual to see 50 to 100 yachts in the bay and thecenter of activity was the Abri-Cotier dock where you could fill your yacht's tanks with water and drink in
the bar. Each afternoon the Vatier truck would arrive with many dozens of cases of duty-free booze and wine to be delivered to yachts that had cleared out. Monsieur Le Breton, the Customs officer, would keep an eye on everything. (Such a sharp eye, he later became known as "007" when he apprehended a boat he recognized as having been stolen). It was a pleasant atmosphere, busy but fun. There were plenty of yacht services just around the corner on Quay Ouest, where
boats could be fixed and boat gear repaired.

Jacques and Ciarla sailed up to the Abri-Cotier dock after a thirteen-and-a-half day crossing and tied up. They had talked together about maybe opening a chandlery somewhere and they realized Fort-de-France was the place. There was at that time only one large chandlery in Martinique, also in Fort-de-France, called Ship Shop, as well as a smaller secondhand and discount store called Puces Nautiques.

Getting Started

They needed partners to help them start the business and the original arrangement was to open the chandlery at the big dry dock. They started off as a distributor for Accastillage Diffusion, a big French franchise organization. Everything was set to go when they hit their first major problem. One of the other tenants strongly objected to the opening of a retail chandlery on the dry dock. They were blocked. Luckily one of their partners was close to a real estate agent who knew that M. Cottrell had just opened a kind of shopping mall on rue Ernest Deproge in Fort-de-France. Here they managed to rent a space with street frontage next to a sweet shop, and opened in 1987. For us yachties, the advent of a new chandlery was an exciting event, even if we found the name "Accastillage Diffusion" a little strange. Best of all for us English speakers, Ciarla spoke our language, as did Jacques, if with a slight accent. They soon became good friends of the yacht charter community. Both had a great sense of humor. Jacques was quieter and more relaxed, Ciarla more outgoing, effervescent and ever active, but also as sharp as one of those sword-edged razor blades. Nothing happened in the store that was not properly organized, crossed, dotted and filed.

I published my first Sailors' Guide to the Windward Islands in 1980, but the first few editions covered just from St. Lucia to Grenada. When it came time to expand into Martinique, I needed help. My French was even more excruciating than it is today. A French cruising friend, Jean-Noel, agreed to come and help me to deal with the advertisers, but being a cruiser he was no help with legal stuff — how to take checks and give legal receipts, which in those days was a problem.
So Jean-Noel and I walked over to Jacques and Ciarla's store and laid the problem in their hands.
Helping a cruising guide author is not something a chandlery might normally be expected to do, but they found a way to make my transactions in Martinique legal and so in the beginning, all the guide's Martinique finances went through their store.

Expansion

Jacques and Ciarla's agreement with Accastillage Diffusion was one where they were distributing exclusively for Accastillage Diffusion and could not expand their stock into other brands. This clearly was not going to fill the needs of the yachting community so they ended that arrangement and started sourcing freely. They were soon dealing with 60 different suppliers in six different countries and Sea Services was born. Jacques, because he knew boats and spoke English as well as French, found himself in demand to arrange provisions and other things for incoming cruise ships, and became their main supplier. He also happened to like rigging and saw the need for a rigger, so in 1990 he and Ciarla took out a loan to buy a reliable mechanical swaging machine, which is still working today.

As a supplier of paint, Jacques saw the need to form a separate company that could supply the best antifouling paint not only to yachts, where quantities are small, but also to ships that buy by thousands of liters. Jacques liked the challenge of working with the ships where he could oversee the proper technical application of the paint, which was often guaranteed. So in 1998 Global Marine was born, a distributor for International Paints and associated application gear.

Yachts' Migration to Marin

Over the years Fort-de-France itself started to change. The value of yachting was not appreciated, and a large part of the yacht anchoring area was given over to a giant cruise ship dock in the early '90s. A little while later, the officials saw more merit in the idea of a ferry terminal than yacht services and requisitioned Quai Ouest as a ferry terminal, relegating the yacht services to a disused wood mill in Baie des Tourelles.
One man, Franz Jean Joseph, did realize the value of yachting and saw the need for a big marina with services. In 1993 he approached authorities of the communities of Fort-de-France, Trois Ilets and Marin, asking for somewhere to put a marina. Only Rodolphe Désiré, the mayor of Marin, saw virtue in this plan and welcomed the idea. The others turned him down. It was thus that Marin became the new yachting center of Martinique, though this did not happen overnight. Franz himself died before it all came to pass, but his sons Eric and Glen carried his idea through — and way beyond the original conception. Today the Marin Yacht Harbour is one of the largest and most successful marinas in the Eastern Caribbean. It totally transformed Marin from a quiet backwater to a thriving yachting center, with hundreds of support services, stores and restaurants.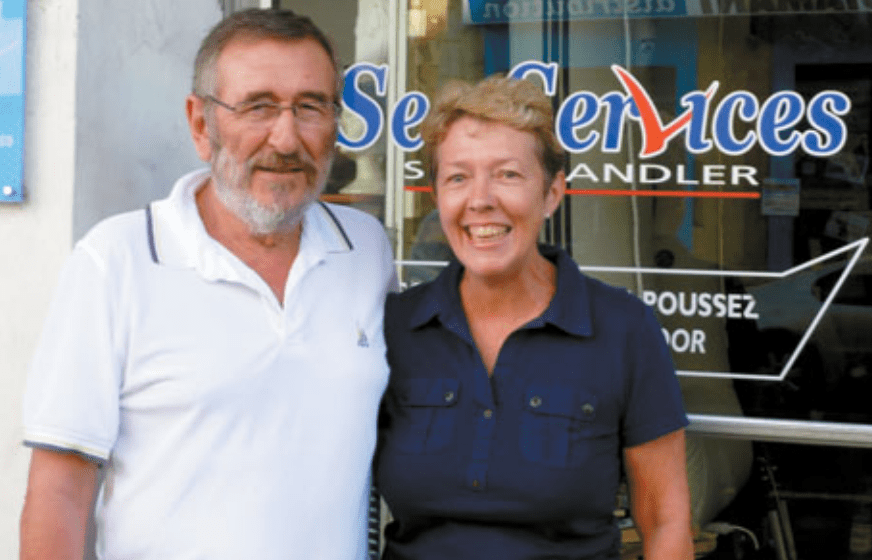 Fort-de-France, with its reduced yacht anchorage, was no longer as active as it was after the Abri-Cotier was torn down, but across the bay at Anse Mitan, the Ponton du Bakoua (originally run by Charlotte Honnart, then later by Philippe Merceron) filled the need for yachts to take on water and fuel, so there were still quite a few visitors. Despite this downturn, Sea Services survived and flourished. While the earlier clientele had been visiting yachts, they were now getting increasing numbers of local boaters, who relied on Jacques' technical excellence to sell them the product to perfectly fit their need.
The original mall idea of M. Cottrell proved to be ahead of its time. People did not yet want to walk down corridors, and the other stores were not working out too well. Sea Services clearly needed to expand and in 1996 took over the hallway and the other two shops, which had closed, and thus built their present store. In 1998 Ciarla took one half of the store to create a new department, one that sold nautical objets d'art, tableware, linens and a wide selection of good nautical casual and sportswear including the St. James brand.

As Marin Yacht Harbor began to succeed, it drew in more and more of the marine businesses to the south end of the island. The old days of the small owner-run charter yachts was diminishing and in their place were large fleets of bareboats, mainly based in Marin. The Baie de Tourelles did work out as a service center, but more for local boats than visitors. Puces Nautiques moved there and some new chandleries and a fuel dock opened; Sea Services remained as the only holdout in downtown Fort-de-France. Jacques and Ciarla opened a branch in Marin, and put in charge Yves Ligier, who had worked with them for some time and was technically excellent as well as being an exemplary salesman behind the counter. Their regular clients who had boats in Marin started
visiting the Marin store. But while Yves would give them the correct advice on what to buy, customers would often come up to Fort-de-France to make sure Jacques approved of this decision before making the purchase. In the end it was not worth keeping the Marin branch open.

Renovations in Fort-de-France

Starting around 2002 things in Fort-de-France became very poor for yachting. A new plan was started to comprehensively renovate the waterfront. The firststage priority was given to the ferries. These were moved from the small dock by the fort to a big new combined ferry and bus station located right where the yachts used to anchor. Yachts were given an anchoring area under the fort, which was actually a big improvement in some ways, but for a dinghy dock we were given
the old pilot station dock, which, with its small shelter, became a favorite hangout for homeless druggies. I remember several times after going out to dinner with Jacques and Ciarla that reclaiming the dinghy was like running a gauntlet while dispensing small change. Ciarla was well aware of the problems and worked tirelessly behind the scenes to get yachting reintegrated
into Fort-de-France. On the plus side, Sea Services now housed the Customs computer and had become the place to clear in at Fort-de-France. On the minus side, large swells destroyed the Ponton du Bakoua for the final time, which meant that Anse Mitan was no longer drawing yachts into Fort-de-France Bay. For a few years when I visited Fort-de-France I would see fewer than half a dozen yachts at anchor. Sea Services continued to thrive on local clients, added to which some of their overseas clients who now tied up in Marin would rent a car and drive up to visit the shop.
Happily, in the last couple of years the town renovations were finally finished. The new waterfront has a magnificent long dinghy dock with a charming playground behind. Last year I occasionally saw up to 20 yachts in the bay. This year there have been more than 30 each time I have visited. Added to this is the arrivalof a transatlantic fleet of Spanish yachts racing in the Gran Prix del Atlantico race, neatly tied up in a special place created for them on the west of the harbor. Yachting is returning to Fort-de-France.

Another Transformation

However, for Jacques and Ciarla it is also a chance to move on after 25 years of dedicated service, aided in recent years by Stephane Bougeant and Valerie Lagrue. They have handed over the helm of the Sea Services business to the new owner, Christophe Sirodot. Stephane and Valerie (who both speak English) will stay on. Christophe also speaks English, having worked in the US for some years.

As I write this, Jacques and Ciarla, Olivier (my current cruising guide representative in Martinique), and a friend, Anne, are on my boat. We have just returned from a pleasant daysail to celebrate the sale of their business. Ciarla takes a deep breath and exhales: "I am trying to learn to relax." She may not have too much time to relax. There is now a new office way up at the top of the building above Sea Services. This is the home for the new business association of Fort-deFrance, the Association des Professionnels Foyalais, known as "Cœur Foyal". Ciarla spends a lot of time up there getting it organized. Olivier is the president. We can expect great things to come….
This article originally appeared in the March 2012 issue of Caribbean Compass.