Seventy boats and five days of racing concluded on Sunday, April 2, with fireworks and the hospitality of long-time host sponsor Nanny Cay Resort and Marina.
A special mention is due to 92-year-old BVI local Dr. Robin Tattersall, racing on Makin Memories, a Sunsail 41 in Bareboat 2 division. "When you are my age, it's tempting fate to say you are coming back, so I don't!" Tattersall laughed. "Our class was quite competitive and quite close; we did get a second today which was our best result." Tattersall has represented the BVI in two Olympic Games.
In CSA 1 Racing, first place went to Dr. Laura Schlessinger from California, USA, sailing on the Lombard 46 Pata Negra. "The racing was fantastic," she said, adding "yesterday we took a race by one second and I think the day before we lost a race by a second. I was just happy that we came here and now I'm even happier!"
Longtime BVI Spring Regatta competitor Peter Corr from St Thomas, USVI, took first in CSA Racing 2 on Blitz, his Summit 40. "It feels fantastic to have won, we had a great regatta, the competition was unbelievable, it was seconds and minutes," Corr said. "The event is so well organized and put together."
Jaime Torres, skipper and owner of Smile and Wave, winner of CSA Racing 3, said, "It felt great to win in class in the 50th anniversary edition, we sure worked hard for a long time for this. We didn't do anything special today because we didn't have to win another race. We just needed to stay in the game, sail conservatively and play our cards right, which we did."
An exciting battle in Sport Multihull division between father and son Chris and Nathan Haycraft resulted in Haycraft senior, on Ting-a-Ling 2, a Corsair F31R, taking the win over his son by just two points. Nathan, sailing on Ting-A-Ling, a Corsair F27, said, "It was kind of surreal in the beginning to be doing so well against my dad. It was more of an honor to be honest because I have been racing with him for so long and to finally be on the opposing side was really cool, we really enjoyed racing against him."
Coco De Mer, the Gunboat 66, took first in Performance Multihull. Tactician Tim Thurbon said, "It's been a brilliant few days and it felt fantastic to win, this is my first time sailing in the BVI and today we were hitting 24 knots downwind, the three of us together on the start line short tacking, it doesn't get any better."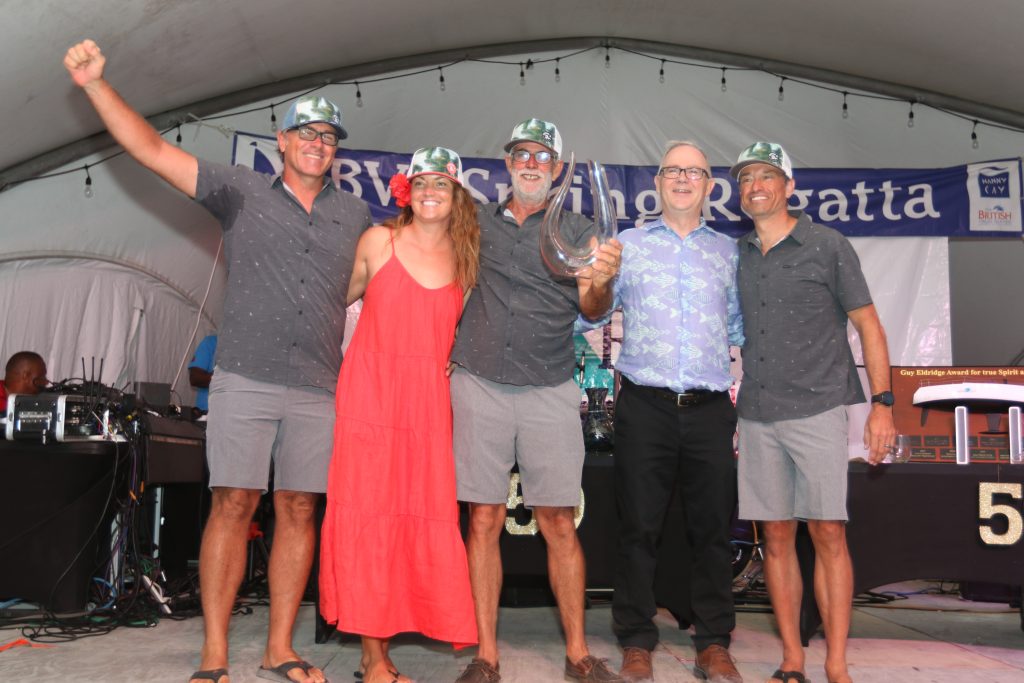 Javier Rodriquez, bowman on board Lady M, from Dominican Republic and racing in Performance Cruising A, said, "It felt wonderful to win—we were tied with Paroma [Salona 44 owned by Luis Balzac] yesterday and we took a first and third today which was enough to win. It's been twenty years since we raced here, and we hope to come back again. It's been an excellent week, good conditions although we did blow the spinnaker halyard yesterday so had to replace that last night and repair the spinnaker—but we still won!"
Bart de Wit, skipper for Team Ned Orange from the Netherlands and racing on a Sunsail 41 in Bareboat 2, said, "It feels perfect to win—we had two days which were really perfect, of course, the crew, the manoeuvres, the wind, our last day was a bit hard but maybe it was because of the party last night. We certainly have had a great regatta, it's our first time here, the wind was two days was good for us 20 knots, today was a little less and we really need 20 knots for this boat."
In the Cruising Multihull class, Georges Coutu on his Leopard 50 La Novia won every race sailed. "It's great for us, we wanted to win the three big regattas: Caribbean Multihull Challenge, the Heineken Regatta and the BVI Spring Regatta—winning this one completes the dream that I had of winning all three," he said. "Competition was very strong, and I liked that every day we had to fight to make it." Every year the Regatta presents the Guy Eldridge Spirit of Enthusiasm Award to an individual or individuals who shine in the spirit of the sport and who has stepped out and gone beyond. This year the award was presented to Richard Wooldridge and Steve Davis, for their persistence, hard work and commitment to journey rebuilding the Kelsall 47 Triple Jack. She finally was able to race this week for the first time after being wrecked following Hurricane Irma.