by Keith Dickey and Rebecca Frontz
This is part one in a five-part series. See the links below for other parts:
Part One: Part One: 5,000 Miles Against the Trades with an Electric Motor
Part Two: Installation Overview
Part Three: The Charging/Discharging System
Part Four: 48V Discharging/ Electric Motor Usage
How do two 30-something-year-olds convert a 43-year-old sailboat to electrical propulsion and beat nearly 5,000 nautical miles eastward in the Caribbean? With a lot of luck, some hard work, and a fair bit of painful learning along the way. Through a series of articles, we want to share it all — the good, the bad, and the ugly. However, first we should introduce ourselves and, more importantly, our boat.
We are two venturesome souls who met in college, lost touch after graduation, and reconnected almost nine years later. With a mutual love of travel, we decided to leave our careers behind and travel the world via sailboat. There was only one problem. We needed a boat.
Enter S/V Vagari. She is a beautifully and strongly built 1979 sloop-rigged Pearson 424. However, her beauty wasn't always so obvious as she had sat neglected for years. Thankfully, we love a good challenge. When we bought her in May of 2018, we knew she would eventually need to be repowered, as she still had her original reverse-mounted 60-horsepower Westerbeke and V-drive. The repower quickly moved up in priority on our lengthy list of boat projects when, in July of that first year, we took her out for a quick day sail only to return to the dock with an overheating diesel and a bilge full of oil.
We would like to say that putting an electric motor in Vagari was by design and that we had researched and planned at length. However, truth be told, it was a very rushed commitment. Around the same time that our Westerbeke was kicking the bucket, another Pearson 424 owner listed for sale a never-installed custom built electric motor. There was one catch — a very short timeframe to make a decision. With only three days before the previous owner would no longer physically be at his storage unit and able to ship the motor, we researched everything we could possibly imagine in those 72 hours. With neither of us ever intending to convert Vagari to an electric boat or holding any electrical engineering prowess, we were starting with minimal knowledge. Feeling a fair bit nervous, we purchased the 20kW Electric Yacht motor anyway and that is where the story really begins.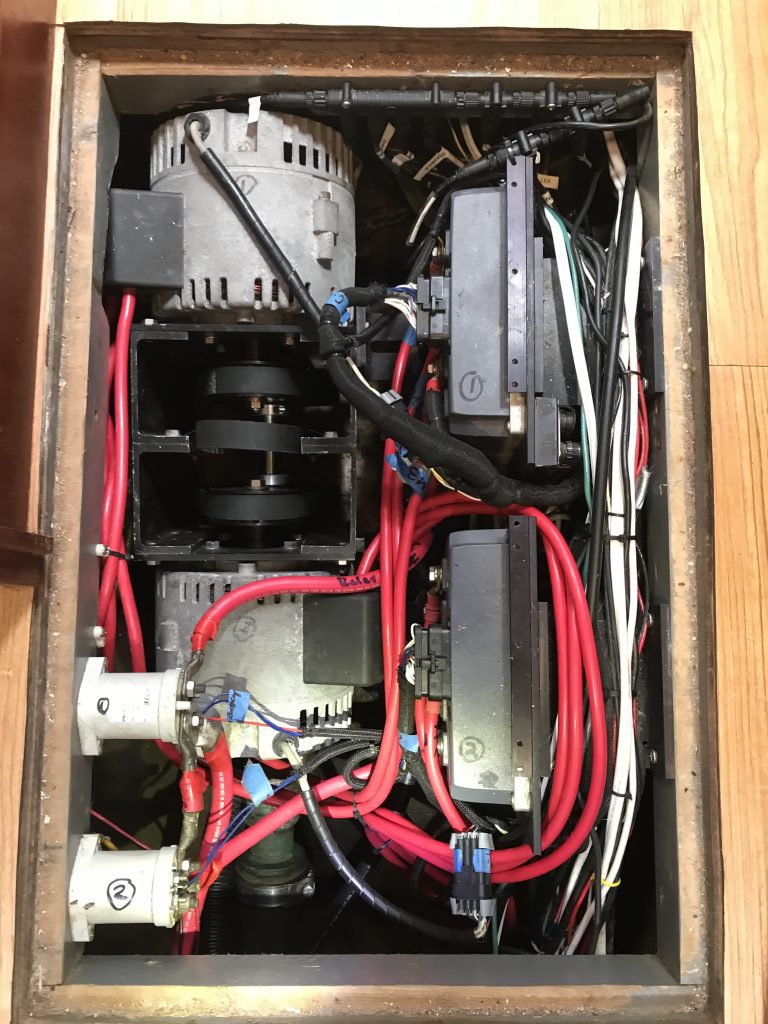 System Overview
THE PHYSICAL LAYOUT
One of the first challenges to tackle was where and how we would physically mount this electric motor. We opted to install while Vagari was in the water and to utilize the existing space under the cabin sole where the old V-drive transmission was housed. The motor consists of two 10kW motors stacked together working in unison to rotate two pulleys that then spin a one-inch shaft. The shaft is then directly connected via a coupling system to the existing one-and-a-half-inch boat shaft. With some determination, the motors and electrical controllers all fit into this space — however, not without some compromise. Since we kept the boat in the water, we did not shorten our boat shaft to create more room for the motors, which led to future complications with the custom-built coupling system on our passage from Honduras to Jamaica. (That story is worthy of an article of its own!)
The motors are powered by a 20kW 48-volt LiFePo4 battery bank.
A rather large consideration when replacing a nearly 1,000-pound diesel motor and transmission with an 80-pound electric motor and a lithium-ion battery bank weighing 250 pounds is the change in pitch. Having the boat become significantly bow heavy was something we forgot to anticipate. We remedied this by dropping the anchor chain lower into the boat and cutting out the forward 60-gallon fresh water tank.
THE CHARGING AND DISCHARGING
With a 48-volt battery bank to accommodate the electric motors, the charging system is set up so that all charging is brought into the boat at 48 volts via four different methods: solar, wind, hydrogeneration, and a battery charger that is powered via a diesel generator. The solar array spreads across our davits, archway, and bimini. After approximately four to six months of cruising, we decided you can never have too much solar power and managed to squeeze enough panels onto Vagari to increase from 1,100 watts to the 1,900 watts we have now. The wind generator is a 400-watt Silent Air turbine. The hydrogeneration occurs when the boat is sailing at speeds through the water above four and a half knots, providing power of up to about 800 to 1,000 watts. We also have a 60-amp 48-volt battery charger, which is powered by a 5.5kW diesel generator. Discharging can occur at 12VDC, 48VDC, and/or 110VAC.
The Characteristics of the System
All of this charging leads to the inevitable question: "How much range do you have?" We could talk at length about why this question does not have a simple answer and why it probably isn't as important as most cruisers think. However, here's the simple response: our boat has a range of about 25 nautical miles at "cruising speed" without any charging. Assuming a reasonable amount of solar and wind, that distance can easily be extended to 100 to 150 nautical miles. We also carry enough diesel for about 300 hours worth of generator run-time. Running the boat as a diesel-electric via generator and battery charger gives us a range of around 1,000 to 1,500 nautical miles.
In theory, between renewable charging options and the diesel-electric setup, if we are smart with our motor amp-draw and patient enough to allow for renewable recharging, our range is limitless.
You can already see that, just from a charging perspective, this question is difficult to answer. It is further complicated by other factors such as the speed at which we want to move Vagari and the sea state in which we are trying to move. We will dive into these factors in more detail in another article, as well as fully explain the nonlinear energy-to-speed curve. For now, we can assume that without sails, Vagari's cruising speed is around four and a half knots on average when the batteries are being charged with the generator battery charger and wind/solar. This speed is generally reached with an amp draw that does not exceed the charge coming into the batteries. When using only solar/wind, we can move at two and a half to three knots without draining the batteries. The boat is able to move at hull speed (7.2 knots) with the system, but the energy-speed curve characteristics means that we can only do this for short bursts, generally one to two hours, before depleting the batteries.
Much of these details surrounding the electric motor we have learned over the past year and a half while sailing approximately 5,000 nautical miles eastward. We left Texas in May 2021, had an extremely difficult 19-day passage through the Gulf of Mexico to Belize through a storm, and spent hurricane season in the Rio Dulce. That October, we left that hurricane-safe harbor and started making our way east, with stops at the Bay Islands of Honduras, Jamaica, the Dominican Republic, Puerto Rico, and the US Virgin Islands, finally reaching the Windward Islands with an arrival in Martinique July 2022. All told, it was about 3,000 good nautical miles with many additional miles due to tacking back and forth against the trades. The electric motor was exposed to some of the tougher sailing conditions that a normal cruising sailboat would face. Here are the primary benefits and drawbacks we've learned so far.
Benefits
Our life aboard at anchor is essentially like being plugged into the dock, due to the battery capacity and renewable charging we installed primarily for the electric motor. We have nearly limitless energy and use it to cook with our fully electric galley, run our 11,000-BTU air conditioner, watermaker, hot water heater, and just about anything else that can be powered by electricity. A 3,000-watt inverter powers our 110-volt devices. It's generally only after multiple consecutive cloudy days that we start reducing our consumption. This may seem like a secondary benefit, but given that the majority of our time is at anchor and not actually sailing, this benefit has proved to be the most valuable.
A benefit we did not plan on is the ability to do what we call 'motor assist sailing' often. This is when we are sailing and simply use the renewable energy coming into the boat to spin the electric motors at a speed that is net-zero energy use. Because the motor is silent (think of electric cars vs traditional gas powered cars), this does not ruin the ambiance of sailing. It usually gives us an extra one to two knots of speed and/or increases our COG (course over the ground) about ten degrees higher when going to windward. We are motor assist sailing whenever there is a net positive charge coming into the boat and this is nearly all the time during daylight hours (from both solar and wind generator). Given that we were beating directly east from Guatemala to the Windward Islands, this benefit made the difficult journey considerably more bearable.
There is nearly no maintenance or vibration. This sounds almost too good to be true, but after having the system for more than four years, we can attest to the fact that it is indeed accurate. There is a bearing we grease every 12 months and we are meant to replace the two belts every five years. Otherwise, there is no maintenance on the system — no fuel or oil filters, no saltwater strainers, no oil changes, and none of the smell or mess that comes with these normally required tasks. Also, there is considerably less vibration due to the lack of a combustion engine, which further limits component deterioration.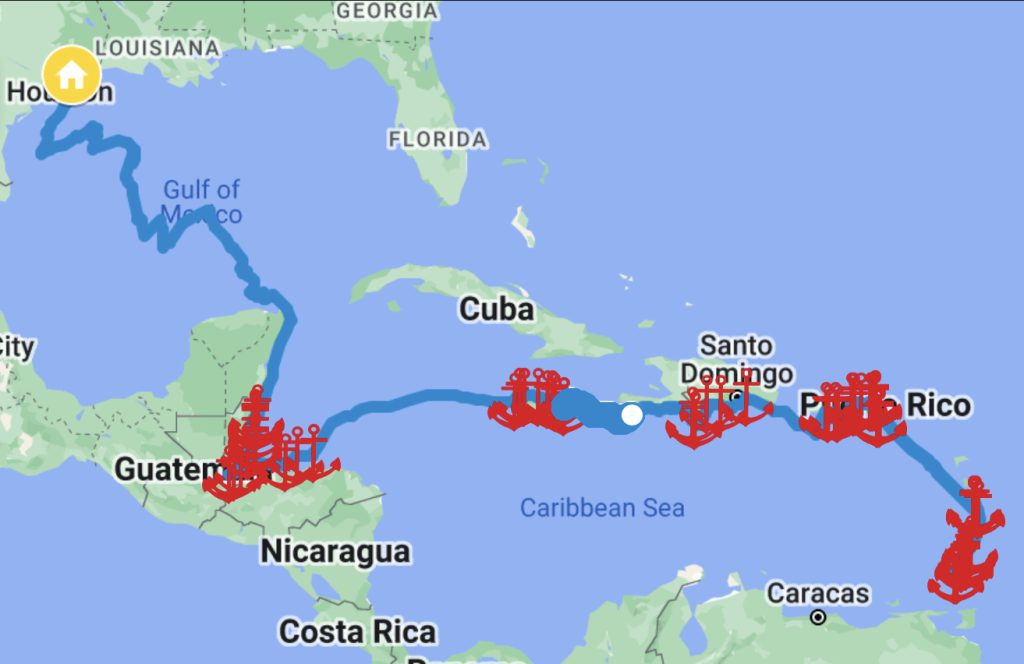 Drawbacks
There is a noticeable lack of power to drive through waves. While monohull sailboats are not known for their ability or comfort when motoring directly into seas, it is not really possible with our set-up. We can power through three- or four-foot seas for a short distance, perhaps less than five nautical miles. With anything longer than that, we motor with the mainsail up at an angle of 30 degrees off the wind, so as to not drain the batteries. This deficiency is primarily a result of being slightly underpowered from a motor kilowatt perspective and worth discussing in detail in a future article.
There is a very steep learning curve associated with getting all of the systems to work together seamlessly. There is also a learning curve on how to effectively use the motor. It is a little more nuanced than just picking an RPM setting and going on your way. Also, because this technology is on the leading edge of marine propulsion, there are just not very many people capable of installing and working on your system. You have to become your own expert, and it is also why it is critical to choose a supportive supplier or OEM when selecting the actual hardware for your system.
We could spend an entire article discussing the cost of our system in detail. For now, we will say that the motor, batteries and charging systems are, if thought of as the "capital investment needed to convert," considerably more than the cost of a new diesel.
Conclusion
Like all things on a boat, our electric motor is a tradeoff. We cannot envision going back to a diesel motor after these past four years. The benefits of silently motor assist sailing and having nearly limitless electricity at anchor far outweigh the extra preparation, planning, and patience. That being said, despite our considerable experience using this system, the learning and optimization phase is only just beginning, and this is what really excites us. We look forward to sharing all of this over the coming articles.
This is part one in a five-part series. See the links below for other parts:
Part One: Part One: 5,000 Miles Against the Trades with an Electric Motor
Part Two: Installation Overview
Part Three: The Charging/Discharging System
Part Four: 48V Discharging/ Electric Motor Usage
If you are interested in a more detailed discussion, email us at [email protected].